Plans, refrigerators and what have I done…
Oh kids.  I am off to a whopping good start on this blog…  (Sarcasm font needed.)  After this post, it will be super obvious that I am not like other bloggers.  Not even close.  Other bloggers seem to have it together.  They plan.  They follow their plan.  Me?  I get distracted.
I had encouraged you to just do something to make your home better.  I said it didn't have to big or expensive.  Like a good blogger, I was working in the background on a little project to share with you (emphasis on the word little).  It was an inexpensive project.  It was easy.  And thanks to Black Friday, I got distracted and completely abandoned it.
We were so blessed to spend Thanksgiving with some of the best friends you could ever ask for.  After dinner, we sat and perused the Black Friday ads.  Our daughters tried to get us to shop that night.  We debated on whether or not we were committed enough to shopping to get up so early.  (FYI.  Mornings = no.)  We wondered if the sales were worth the crowds.  (Probably not.)  Then…  along came the Lowe's ad.  They were having a HUGE appliance sale.  I think I heard a host of angels start to sing.  You see, I am a refrigerator stalker.  On our frequent trips to Lowe's, I always look at refrigerators.  Here's where I confess one of Our Bright Road's dirty little secrets….  My fridge is awful.  That poor thing is the equivalent of the guy that loses the boxing match—seriously banged up and held together with band aids.
It's small ( a featherweight for sure), WAY too small for a family of six.  It freezes things even in the refrigerator section. Constant temperature doesn't happen.  It doesn't have an ice maker.  Many a visiting child has marveled that we get water out of the faucet.  The door for the butter area has been gone for years; it cracked and broke off a long time ago.  The freezer is stuffed to the gills and seems to frost up every time you open it.  The four ice trays contained inside are never full and yes I'm aware that's a people problem not a fridge problem.  And the real kicker?  The bottom door shelf is held together by duct tape.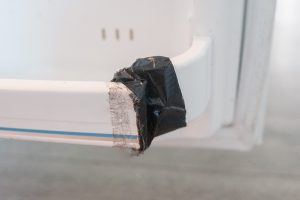 It has been like that for years.  Do NOT put anything on that shelf.  It WILL fall on the kitchen floor and create a mess to clean up.  The state of this fridge has turned me into a stalker.  It feels good to finally admit that.  Hi.  My name is Donna and I stalk appliances.
So when I saw the sale at Lowe's, I had to look.  I didn't really plan on buying.  And if I did buy, I told myself it would just be a fridge.  If I got just the fridge, I'd have 2 white appliances and 1 stainless.  While that's annoying, it's not the end of the world.  I could live with that for a while.  The fridge was $490 off.  You don't see that every day.   Seems like it would be foolish not to get it.  Then, the debate began…  This is a BIG sale.  The state of our stove is also a little perilous.  When you use the timer, it doesn't turn off unless you turn the oven off.  The last time it did that, we had to replace some whatchamacallit that cost a few hundred dollars–coincidentally just a bit shy of what this new stove would cost.  So now we're looking at a stove and a fridge.   Adding a dishwasher at that point seemed like adding the cherry on the sundae.  Not necessary but if you getting all those calories already, you might as well…  And, our dishwasher also has broken parts…  So…  we did it.  We bought all three.
My stomach hurt.  I hate spending money like that, even when I know I'm getting a good deal.  I know it's not frivolous but it still wasn't easy.   I didn't plan to do it but…  it happened…  Which brings me to the gist of this post.  First, plan?  What plan?  And if I had a plan, you'd think that you just remove the old and put in the new, right?  Not in my life.  It doesn't go that smoothly.  I came home and recognized that our 1972 house doesn't have a fridge opening to fit a 2017 fridge.   Cue the "What have I done?"  I got distracted from my plan to do something simple and now, I'm going to have a project…  no… projects…  and I fear they aren't small or simple…
I suggest you stay tuned…