The last photo of my kitchen you saw was from all of its groovy glory.  We've changed a few things since then so don't be surprised by the lack of citrus stripes.  And since this whole appliance excitement is probably going to prompt another round of changes, I'll share photos of the whole look a bit later…  (Okay.  I didn't want to clean my kitchen to take photos before I blogged.  Confession really is good for the soul.)
So…  I have one week…  One week until new appliances arrive.  One week before the plumber comes to put in a water line for the fridge.  One week to decide how this is all going to work.
The big question in my life right now is "What do you do when your new fridge is 4 inches wider than your old fridge and you have, less than 4″ of extra space?"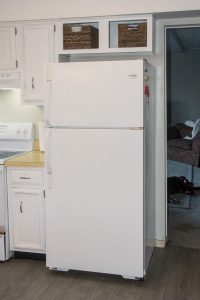 Well…  I could just live with it.  That gets Andy's vote.  I could live with the fridge hanging into the doorway but I am not a fan of this plan.
I could go crazy and go buy all new cabinets and completely redo my kitchen but I don't have the budget for that. (Insert grumbling here.)
Seems to me the best option I have is to play a little game of Tetris with my current cabinets.  See, I have this little piece of my kitchen.  It used to have a desk there and since no one EVER sat there, we decided to use a couple unfinished cabinets we had to replace it.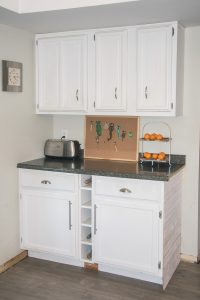 Now…  I think…  I could move the fridge over there and move some of these cabinets to where the fridge was and VOILA!  My big fridge problem is solved.  I am going to play around with this over the weekend.  I'll let you know how it goes.
What do you think?  What would you do?  Live with it or move the cabinets?  I'd love your opinions!