As we all too quickly approach the holidays, I have to admit, the kitchen work is on the back burner.  Andy and I got the wall cabinets moved which is a huge step toward normalcy.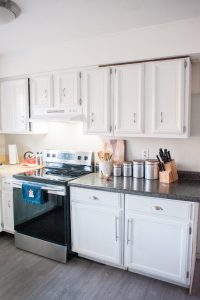 Are you wondering what the dark line is?  It looks like we didn't put the cabinets up to the ceiling but in actuality, we had to remove the trim piece to get it up on the wall.  The dark stripe mocks me every time I walk past it.
For now, I have to say I'm really happy with the progress.  The kitchen feels bigger.  The new appliances make me feel like a grown up.  And I think we actually moved cabinet contents into more efficient places.  I have mainly focused on this area.  A bit more work to do and then I'll turn my attention to the fridge area.  But, realistically, I think I need to pay attention to the upcoming holiday.
Are you ready?