The holidays are over.  My busy season over at dk photographic is coming to a close and we are settling into a winter routine.  I have to say the brutal cold has not been a motivator.  Here in Central Ohio, there have been a lot of single digits on the thermostat.  It's kind of funny.  Every time I ask Siri what the temperature is, she starts out with "Brrr".  That cold has me wanting to be all snuggled up.  All I've wanted to do is sit with a blanket, warm slippers and my instagram feed.  Yesterday, I intended to be so productive.  I started the day with marketing ideas for senior pictures for my day job.  I spent a lot of time on social media talking about it and implementing it.  After so much brainpower used on that, I was spent.  I lost my motivation to work on the house.  About 8:00 last night, I felt like a slacker.  I got a little annoyed with myself and decided that today would be the day I'd get going again.  But of course, we have a snow day…  So, I decided to chat with all of you.
I am preparing to jump back into kitchen re-remodel efforts.  I have some floor leveling to do by the stove.  I need to get an electrician in here to move an outlet or two.  I need to buy a cabinet.   I'll need to paint the ceiling, the walls and the cabinets—again—because I did it wrong the first time.  More on that later.  First and foremost, I need to transfer some pretty valuable information.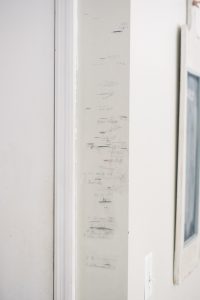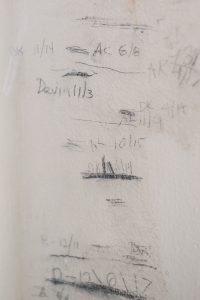 I will admit that years ago when I first painted the kitchen, I wanted to murder my husband for putting pencil slashes on the wall.  But now?  I'm rather sentimental about them.  I love that even at 13 & 16, the kids get excited about putting a new hash mark up there.  My daughter is really excited about the day she makes me the shortest person in the house.  For the record, that could happen any minute.
What is even more amazing, it that their friends want in on the action, too.  That warms my heart so much.  So before I paint, I need to transfer these ugly but precious marks in a way to preserve them.  At first, I thought each kid should get their own board but then I realized half the fun for them is the competition of it.  So…  One board it will be, mounted in a place where everyone can enjoy it.  I'll follow up with all of you when I figure out what, where and how.
In the meantime, enjoy the snow day.
xoxo
Donna
PS… If you like what you're reading, you can subscribe.  Sign up in the right hand column.