I am an optimist.  You know how I know I'm an optimist?  (Hint:  it has nothing to do with glasses being half full.)
I am an optimist because…
I hold on to lottery tickets before I check the numbers so I have time being a "potential" lottery winner.
No matter the game, I believe the underdog could have a dramatic come from behind victory.
I think  Facebook can be a positive place.
I believe I can lose the weight by just thinking about losing it.
And I believe the things that I imagine in my head can and do exist in real life…
That last one…  It's the toughest one.  Truth be told, I am often looking all over God's sweet, green Earth for what I am sure must exist but can't seem to be found.  Take this giant ruler as an example…
When I decided to make it, my first thought was "Cool.  I'll make a giant ruler so I can transfer my kids' heights before I paint."  That thought was quickly followed by a "Pinterest" thought.  My third thought was "Oh my.  All of these look alike."  My fourth was "I have to do something different."  That fourth thought….  That fourth thought TOTALLY makes my family cringe.  It keeps my husband awake at night and tends to cause me a wee bit of frustration.  I have learned that it can and usually does make things a bit harder but I forge on anyway.  I get a lot of satisfaction from doing things differently.
I put a lot of thought into how I could do a giant ruler differently than it had been done before.  I mean, a ruler is pretty much a ruler.  Am I right?  Once, I started thinking about it more in terms of style, I began to get an idea how I could do this.  I knew I wanted it a) modern b) kind of rustic and c) different.  I came up with the idea of somehow adding metal.  But how?
Well…  WAY too many thoughts later, I came up with the idea of adding a ruler actually on the wood instead of painting it on the wood as we're used to seeing.  Turns out 6 and 8 ft rulers aren't very common.  Go figure.  I guess if it doesn't fit in a kids' backpack or a carpenter's toolbox, it's not very practical.  And let's talk about color.  Most were yellow.  Some were white and I definitely didn't want that.  I really wanted black, like pipes.  I love all the pipe furniture I see on Pinterest.
I googled every imaginable combination of black ruler.  I found a big ruler on Amazon that was close but it really wasn't what I wanted so that familiar feeling of having to rethink things came into play.  I actually found another route to go.  I went to Hobby Lobby and bought supplies.  It wasn't what I really wanted but…  Done was better than perfect and it would still be different.
Lucky for me, I had to stop at Walmart on my way home and that stop altered my destiny forever!!  Okay…  It didn't really alter my destiny but it gave me something I really wanted.  Even though I had scoured the internet, and multiple other stores, my optimistic little self couldn't stop from looking at yet another store.  I mean, it couldn't hurt to look, right?  Down the aisles of Walmart, I went.
I couldn't believe it.  In all the internet, in all the other stores, this never showed up: a black aluminum yard stick with white numbers.  I wanted silver numbers but it was so close to perfect.  I could totally live with and love this option.  I grabbed 3 yardsticks, some screws and headed home.  I felt victorious, like I had won the internet for the day!  (I know.  We can talk about how sad it is to get this happy about yardsticks in another post.)
Now that I had found the materials I needed, it was time to get to work.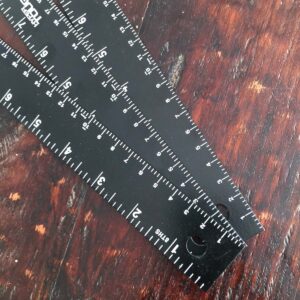 Next up:  a tutorial on how you can make a giant ruler, too.
xoxo
Donna
PS… If you like what you're reading, you can subscribe. There's a sign up in the right hand column.  Love having you on the road with me!