Fairly regularly, I get asked "What made you think you could do that?"  I honestly think it's in my DNA.  Both of my parents were creative people.  My parents were kind of the perfect storm of creativity.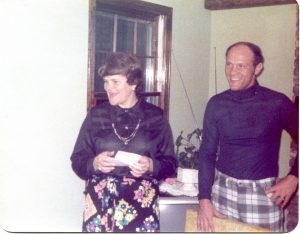 My mom was always good at making things pretty.  I mean, look at her—so stylish!  She's definitely the one that instilled a love of good design in me.
My dad, however, is most  likely responsible for the "I'm not afraid to try that." mentality.  He was a salesman most of my life.  He almost always sold home decor products.  When he sold wall mud, we had the coolest textured walls.  When he sold paneling, my parents had designer paneling in their room.  I can remember my dad building bookshelves, taking down pony walls, building an addition, adding hardwood floors, putting in a bay window, replacing a slider with French doors and building a deck.  I remember watching it all.
He wasn't afraid to try anything.  He wasn't perfect.  He failed now and then but it never seemed to deter him.  He eventually stopped being a salesman for others and started selling for himself.  He bought a home decorating business.  I guess he's where I get my entrepreneurial spirit as well.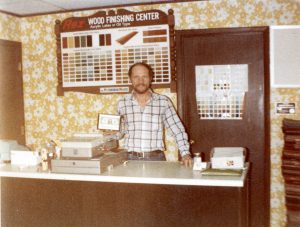 When he started, he mostly sold paint, carpet and wallpaper.  I remember driving my old VW bug to his store to help him.  That little office above was our place.  We spent a lot of time together there.  I could mix paint with the best of them.  And organizing paint chips was the bane of my existence.
Eventually, my dad started helping people with their decor and furniture, as well.  He met a builder and even got to help design a few parade homes.  I got to help a bit with those, too.  Pretty awesome experience for someone as young as I was.  I have a lot of fond memories from those days.
He passed away in 1995.  He was too young to die.  I was too young to lose him but sometimes that's how it goes.  I miss him so much and he is on my mind so much lately.  I know if he were still here, he'd be helping me with everything I do.  He'd have loved this house.  He'd have seen it's beautiful bones and he'd have enjoyed fixing it up as much as I do.
So the next time, you think "Donna, what made you think you could do that?", remember this post.  My dad made me believe in myself because he believed in himself.  I sure hope I'm passing that gift onto my kids as well as he passed it on to me.