When we last spoke, I was trying to figure out how to transfer those precious height hash marks off the wall…  I know that I want to transfer them to a wood piece.  If we ever move from here, I want to be able to keep that with me.  It always makes me a little sad to see the previous owners' hash marks inside the pantry door.
So…  I went to see my friends at Lowe's—again.  I bought an 8 ft 1′ by 8" piece of Poplar.  I spent a little time this afternoon staining it.  I first used a Pecan Minwax Stain.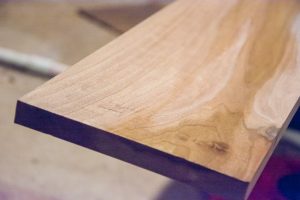 It's a nice warm color .  (Pardon the basement rainy day photo.)  I wanted a little more depth and variation to the color so I went to see what else we had.  I found an Olympic stain my mom had so I figured I'd risk it.  It was New Ebony so…  dark…  I brushed on a few dark strokes where I wanted to highlight the wood grain.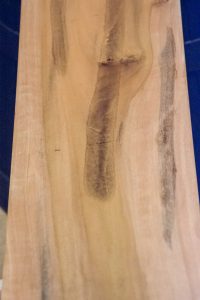 I let it soak in for just a second or two before I wiped the whole board with an old rag.  The result is a look I really like.
It has more depth and color variation.  I know…  Playing with stain is scary.  If you're the type of person who likes things "just so" then maybe don't try this.  If you're feeling a little adventurous, then go for it.  The worst thing that could happen is you would have a big piece of firewood and have to get a new board.  That's not so awful…
Honestly, for me, getting over the fear of it not being exactly what I want is my biggest hurdle.  If I forgive myself enough to allow myself a mistake…  or two…  things usually work out.
Now…  While the stain is drying, the big question is what comes next?  Most people make a giant ruler.  I could do that.  It's good.  It works.  It makes sense.  I'm just not sure it's me….
xoxo
Donna
PS… If you like what you're reading, you can subscribe.  Sign up in the right hand column.